3 Reel Hold Up Slot Machine Information, How to Play it and which British Casinos offer Three Reel Hold Up Slot
---
3 Reel Hold Up Slot | Three Reel Hold up
3 Reel Hold Up is a slot machine based on the classic bank robbers theme and will be familiar to those who play online casino slot machines regularly.
The game is an old style three-wheel, one-pay line machine with a maximum payout of 200x. The symbols consist of bags of swag, bonus bombs, wild symbols, classic fruit symbols and mug shots of a variety of nasty looking bank robbers. The game can be found online to be played for free or for real money.
The game does not possess any free spins or scatter features but it does contain wild symbols and multiplier and bonus rounds. The game has a hold feature that is common on most three-reel slot machines found in the brick and mortar world.  The wild symbol will act as a substitute for all other symbols to create winning combinations. The only symbol that it does not substitute for is the Bonus Bomb symbol and it also does not active the special bonus feature.
The special bonus feature is called the Big Heist Bonus Feature. It is unlocked by hitting three Bonus Bomb symbols on an active pay line. The number of credits you were playing at the time you activated your bonus will be multiplied by the value of your bonus bomb. You select one of the safes or bags of money by clicking on it and it will reveal your bonus prize.
So it would be advantageous to bet max-credit when playing Three-Reel Hold Up.
The top jackpot of 200x is triggered when you hit three wild symbols while a second jackpot of 80x is triggered when you hit 3 Boss symbols.
3 Reel Hold Up Slot Machine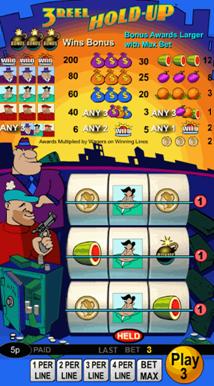 Play 3 Reel Hold Up Slot at the Following Wagerworks Casinos:
---
Three Reel Hold Up Slot | 3 Reel Hold Up Slot