Double Magic Slot Machine Information, How to Play it and which British Casinos offer Double Magic Microgaming Slot
---
Double Magic Slot Machine
Double Magic Slot is a 3 Reel, 1 Payline, and 2 Coin online slot machine. This is one of the more traditional types of slot machines, perfect for players who have never spun the reels of lady luck. According to statistics this slots game is listed as one of the most played casino slot games.
The reason is simple, it provides the player a wonderful time when they are online and it's also one of the easiest and most relaxing games to play. This is because it does not require the player to concentrate so hard on the slot game. All the player has to do is decide on how much money to bet, and wait for the reels to stop.
Double Magic Online Slot has a wild, multiplier symbol and the maximum payout is 1,600 coins.
The Blue Star symbol is wild and substitutes for any other symbol to complete the win.
A single Blue Star symbol doubles the payout of any combination it makes up.
Two Blue Star symbols quadruple the payout of a winning combination they complete.
Bet 1 coin and hit 3, 2 Bar symbols, you win 25 credits.
Bet 2 coins and hit 3, 3 Bar symbols, you win 100 credits.
Bet 2 coins and hit 3 Blue Star symbols, you win 1 600 credits.
Minimum Bet : £0.50 Maximum Bet : £10.00
Double Magic Slot Machine
| Combination | Coin 1 | Coin 2 |
| --- | --- | --- |
| 3 Blue Star symbols | 800 | 1600 |
| 3 Red Seven symbols | 100 | 200 |
| 3, 3-Bar symbols | 50 | 100 |
| 3, 2-Bar symbols | 25 | 50 |
| 3, Cherry symbols | 20 | 40 |
| 3, 1-Bar symbols | 10 | 20 |
| 2 Cherry symbols | 5 | 10 |
| Any 3 Bar symbols | 3 | 6 |
| 1 Cherry symbol | 2 | 4 |
Double Magic Slot Machine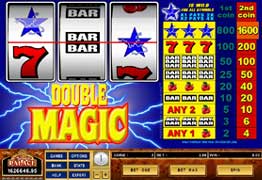 Play Double Magic Slot at the following UK Microgaming Casinos: