Planet Exotica Slot Machine Information, How to Play it and which British Casinos offer Planet Exotica Sneak a Peek Microgaming Slot.
---
Planet Exotica Slot - Microgaming Bonus Feature Slot
If you ever fantasized about playing an alien strip-club themed game (and let's face it, who hasn't – seriously though, developers may just be running out of slot-theme ideas these days) Microgaming's Planet Exotica is definitely the game to deliver those kind of kicks. On top of it all, you'll stand to win a lot of money too. After all, there's a 100 million coin jackpot to be won, together with a whole bunch of free spins just about every step of the way. The main protagonists of the game are 5 alien strippers: Sooki, Meduna, Tandy, Asherah and Lumeena. These "girls" are not just there to look good (kind of), they also hand out bonuses and extra rewards all the time.
The game's graphics are truly dazzling. As one might expect from a strip-joint, there are lots of neon lights and eye candy. The game features 15 pay-lines and the max coins are set to 300. Remember, it's always best to play max coins, just to make sure that you do indeed have a decent payday when you hit a jackpot. The game has up to 20 free spins, each of which feature a 2x multiplier. There are wild symbols as well as scatter ones. The free spin round can of course be re-triggered by hitting the right combination of symbols. The bonus game is called Select-a-Smooch, and it is triggered by the Select-a-Smooch symbol on the first reel and the alien stripper symbol on the last one.
 The bonus game is about attempting to disrobe one of the above mentioned alien strippers, while steering clear of the menacing-looking bouncers. As far as its theme is concerned, this game is truly far out there. It does feature a kind of variance though, that will have players coming back and hunting for those free spins and bonuses time and time again.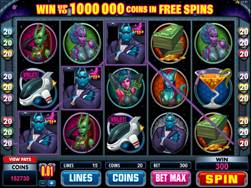 Play Planet Exotica Slot at the Following UK Microgaming Casinos: