Couch Potato Slot Machine Information, How to Play it and which British Casinos offer Couch Potato Microgaming Slot
---
Couch Potato Microgaming Slot
Couch Potato Slot is a 3 Reel, 1 Payline and 3 Coin Slot machine. Couch Potato is also ideal for beginners to play, which has bright and attractive graphics and design.
Couch Potato has a wild multiplier symbol and the maximum payout is an amazing 15,000 coins. The Couch Potato symbol is wild and substitutes for any other symbol that completes a winning combination.
A single Couch Potato symbol pays out 5x on any winning combination it completes. 2 Couch Potato symbols pay out 25x on any winning combination they complete.
N.B. 2 IMPORTANT FACTORS you must remember when playing:
The Couch Potato symbol does not substitute for a Cherry symbol, unless there is a Cherry symbol on the payline.
Winnings are paid out on the Highest combination only.
Example from Payout Table:
Select a 2 credit coin and bet 3 coins on the payline. Your total bet is 2 credits x 3 coins = 6 total credits bet.
Three 1-Bar symbols displayed on the payline complete a 3, 1-Bar symbols combination and pay out 30 coins. Therefore, you are paid 30 coins x 2 credits = 60 credits.
Couch Potato Payout Table
| Combination | Coin 1 | Coin 2 | Coin 3 |
| --- | --- | --- | --- |
| 3 Couch Potato symbols | 2000 | 5000 | 15,000 |
| 3 Red Seven symbols | 60 | 120 | 180 |
| 3 Seven Bar symbols | 50 | 100 | 150 |
| Any 3 Seven symbols | 40 | 80 | 120 |
| 3 3-Bar symbols | 30 | 60 | 90 |
| 2 Couch Potato symbols | 25 | 50 | 75 |
| 3 2-Bar symbols | 20 | 40 | 60 |
| 3 1-Bar symbols | 10 | 20 | 30 |
| 3 Cherry symbols | 10 | 20 | 30 |
| Any 3 Bar symbols | 5 | 10 | 15 |
| 2 Cherry symbols | 5 | 10 | 15 |
| 1 Cherry symbol | 2 | 4 | 6 |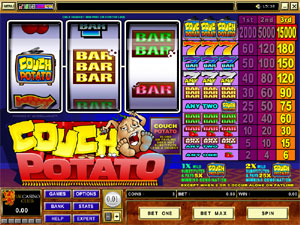 Play Couch Potato 3 Reel Slot at the Following UK Microgaming Casinos: