Cracker Jack Slot Machine Information, How to Play it and which British Casinos offer Cracker Jack Microgaming Slot
---
Cracker Jack Slot Machine
Cracker Jack Slot is a fun 3 Reel, 1 payline, and 2 coin online Slot machine, perfect for new players. It has a wild, multiplier symbol with the maximum payout of 5,000 coins.
The Cracker Jack symbol is wild and substitutes for any other symbol to complete a win. One Cracker Jack symbol Doubles the payout of any win it completes.
Two Cracker Jack symbols Quadruple the payout of any win they complete. Three Cracker Jack symbols on the payline create a Jackpot winning combination as shown in the Payout Table.
Cracker Jack Payout Table
| Combination | Coin 1 | Coin 2 |
| --- | --- | --- |
| 3 Cracker Jack symbol | 2000 | 5000 |
| 3 Seven symbols | 100 | 200 |
| 3, 3-Bar symbols | 50 | 100 |
| 3, 2-Bar symbols | 30 | 60 |
| 3, 1-Bar symbols | 15 | 30 |
| 3, Cracker symbols | 10 | 20 |
| Any 3 Bar symbols | 5 | 10 |
| 2 Cracker symbols | 3 | 6 |
| 1 Cracker symbols | 2 | 4 |
Cracker Jack Slot - 3 Reel Microgaming Slot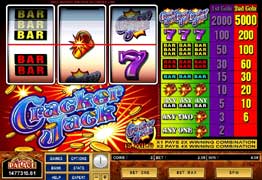 Play Cracker Jack 3 Reel Slot at the Following UK Microgaming Casinos: